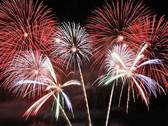 July is a time Americans celebrate with fun, food, and fireworks. It is also a time when eye care professionals warn adults and children to be extremely cautious when using fireworks. While most people consider them simple entertainment or recreational toys, fireworks can cause serious bodily and property damage. The extreme heat fireworks produce can burn the skin and eyes, and the chemicals and flying debris can cause permanent vision loss.
Most of the injuries from fireworks involve firecrackers, bottle rockets, and roman candles, but these are certainly not the only ones causing harm. While the majority of fireworks are used around July 4th, they are also used at weddings and other celebrations (especially sparklers). Even though manufacturers follow strict safety standards, the fireworks come with warning labels and still can cause damage when not used properly. In fact, fireworks are so dangerous, that some cities ban their use, even during national holidays.
If you live in an area that allows the use of fireworks, make sure you follow safety precautions to keep your family and yourself safe:
Never shoot or throw fireworks at anyone. The chemicals, heat, and flying debris can damage the eye and set clothes on fire.
Do not make you own fireworks or tamper with ready-made fireworks. Use them only as directed by the manufacturer.
Make sure an adult is always present.
Find a safe surface such as a concrete driveway or road. Never use fireworks on dry grass or near brush.
Make sure a water source is nearby (water hose or bucket of water). If you are not near water, make sure a fire extinguisher is on hand.
Only use fireworks OUTSIDE.
Keep the fireworks you are lighting away from unlit fireworks and only light one at a time.
Do not lean over a firework as you light it; if it seems your firework did not light properly, stand back a while or douse it with water. If the firework is not working do not attempt to relight it.
Wear safety eye wear; shooting glasses or other sports glasses are goof for protecting the eyes.
Keep your eyes safe from fireworks during July and throughout the year so that you can enjoy your eyesight for a lifetime. For more information about state and federal regulations visit the Consumer Product Safety Commission (CPSC) website.
Dowshen, MD, Steven. Fireworks Safety. July 2013. TeensHealth.org. 3 July 2014. (http://teenshealth.org ).
Protecting Eyes During Summer Fun. 11 June 2014. Specktacles. 3 July 2014. (http://spektaclessandiego.com/protecting-eyes-during-summer-fun-june).